COVID-19 Update(Nov. 21, 2020): Due to the latest public health regulation by the Ontario government and the escalating pandemic, UTTTC has confirmed with the UofT Intramural office that Fall 2020 intramurals are cancelled, no decision has been made by the UofT Intramural office with regard to Winter 2021. UTTTC will work closely with UofT and NCTTA and we hope for the best moving forward.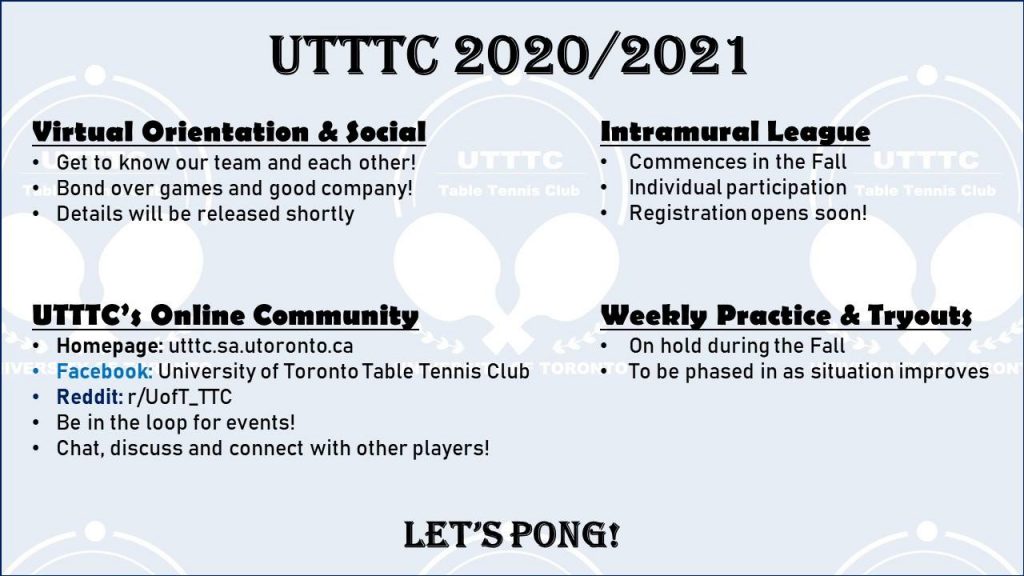 Hey everyone! Hope y'all are doing well. As the school year is about to start, we would like to inform you of the latest updates on our plan for the 2020-21 academic year.
---
Virtual orientation & social.
To our long-awaited table tennis enthusiasts, we proudly present UTTTC's Virtual Orientation & Social! We hope to "see" each of you again after so long and welcome our new members. This would be a great chance to get to know more about our new exec team and each other. Details and icebreakers will be released within the next few days. See y'all "there"!
---
Rolling out our official Facebook Page and Reddit Community.
Life has been different for everyone in this pandemic. As the club, we are also adapting to all these changes in order to continue to deliver our promise to promote table tennis within the UofT community. Therefore, we have decided to roll out our official Facebook Page, which will be our main hub for info and events, and provide faster responses to all your questions.
Also, we are starting our club's own Reddit community (r/UofT_TTC) which will give people greater ability to have in-depth discussions about table tennis more easily.
Don't forget to join our Facebook group for the latest updates and great events, and follow us on Instagram!
We would also like to hear your thoughts on our experimental virtual social posts this summer. As table tennis enthusiasts, what did you think? Were you engaged with our posts? Please fill out this short questionnaire if you have time: https://forms.gle/rvcUgnvZjD66zdkj7.
---
Intramurals will be back!
We are happy to announce that the UofT table tennis intramurals will be back in the Fall semester, and will be hosted by the Athletic Centre (AC). To create a safe environment for everyone participating, the intramural league will consist of only singles matches and will be played on an individual level. More details on the registration will be released soon. Stay tuned!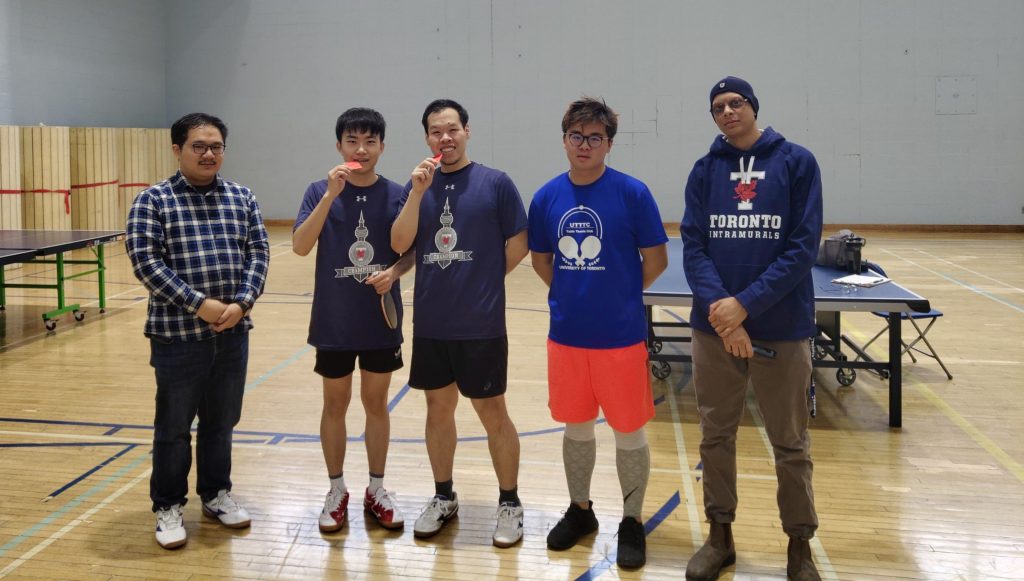 ---
Postponing in-person Hart House Training & Competitive Team Try-out for Fall.
While it's exciting to meet again virtually, we regret to announce that no in-person Hart House Training will be held in the Fall semester, as Hart House will remain closed in the foreseeable future. No decision has been made for the Winter term, and we are working closely with Hart House and ULife to ensure a safe return to our beloved in-person Hart House practices.
Since NCTTA has cancelled all tournaments for the Fall term and Athletic Centre has not re-opened their table tennis courts yet, we have decided to postpone our Competitive Team Try-outs until further notice. However, we will hold virtual events dedicated to professional-level table tennis athletes during the Fall term.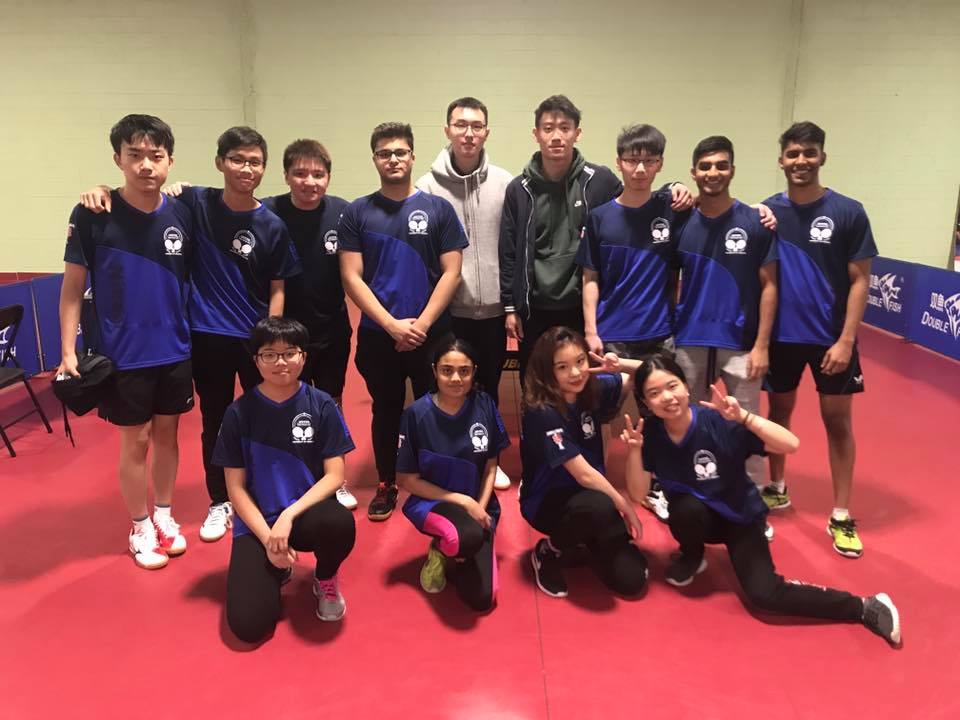 ---
Welcome back!
It is going to be a very different but also a remarkable year for all of us. While we may have very few chances to play against each other on the court this year, we hope that we can still engage everyone in our events. Keep updated via our Facebook page, Instagram and website, and join our Facebook group and Reddit community to meet and talk with all other table tennis enthusiasts! Let's pong in a new way!