Congratulations to Alireza Tabatabaei Naeini (Engineering/SGS) and Taryn Grieder (SGS), First and Second Division winners.
First Division Tournament:
Alireza Tabatabaei Naeini
Engineering, Graduate Studies
Ziting (Vivien) Zhou
Trinity College
Second Division Tournament:
Taryn Grieder
School of Graduate Studies
David Zhang
University College, Commerce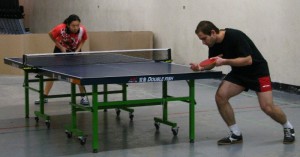 The University of Toronto Intramural Sports program, the Athletic Centre and the Table Tennis Club invite you to represent your College or Faculty at the UofT Intramural Table Tennis Tournament 2011!
Date: Saturday, March 12, 2011
Time: 11:00 AM to 5:00 PM
Where: Athletic Centre, Benson Activity Room
Cost: FREE!  (no deposit or bond required)
Eligibility: UofT students, staff, faculty, alumni.
Athletic Centre Membership is required  for staff, faculty and alumni.
Community members are not eligible to play intramural sports.

Intramural recognized colleges/faculties:
Architecture, Chestnut, Commerce, Dentistry, Engineering, Grad Studies (SGS), Grad House, Innis, Knox, Law, M.B.A., Medicine, Mississauga (UTM), Music, New, Nursing, OISE, Pharmacy, Physical Education (FPEH), PT/OT, Scarborough (UTSC), St Michael's (SMC), Trinity/St. Hilda's, University (U.C.), Victoria, Woodsworth, Wycliffe.
For more information please contact tabletennis.club@utoronto.ca