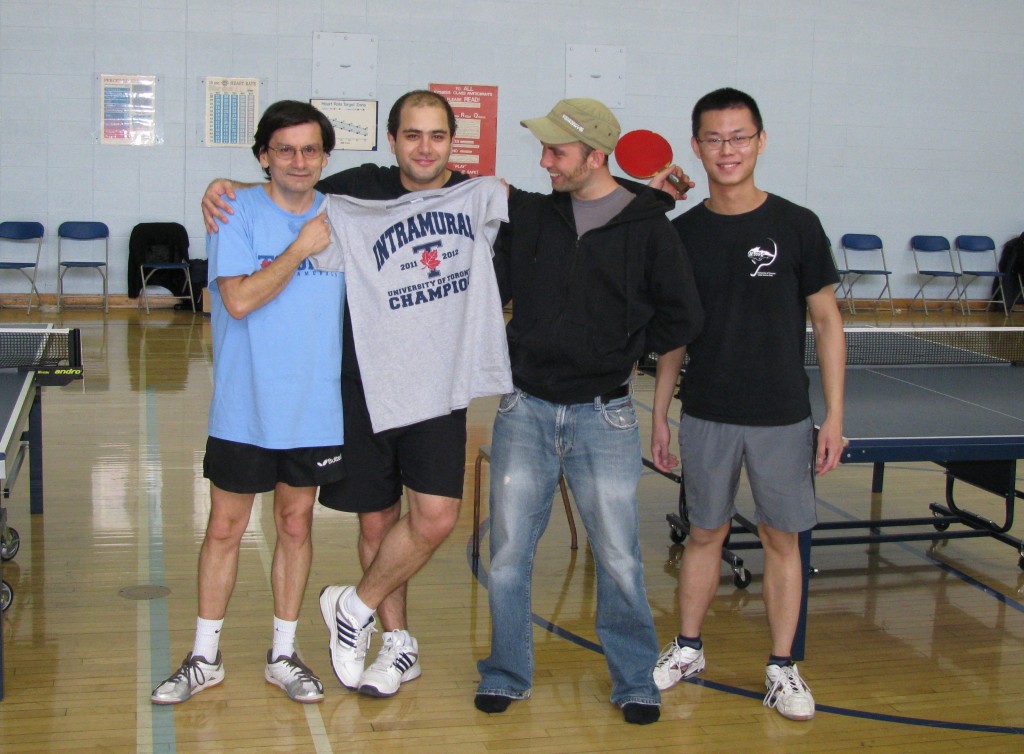 The University of Toronto Intramurals, the Athletic Centre and the Table Tennis Club invite you to represent your College, Department or Faculty at the UofT Intramural Table Tennis Tournament 2012.
Date: Saturday, March 10, 2012
Time: 11:00 AM to 5:00 PM
Where: Athletic Centre, UPPER GYM
Cost: FREE!  (no deposit or bond required)
Eligibility: UofT students, staff, faculty, alumni.
Community members are not eligible to play intramural sports.
To participate, please SIGN UP BY EMAIL NOW!
Deadline: Friday March 9 at 5 PM or when 56 players are reached.

To: tabletennis.club@utoronto.ca
Subject: UofT Intramural Singles Tournament 2012
Full Name:
UofT Affiliation: (undergrad, grad, staff…)
College, Faculty or Department: (see note below)
Intramural recognized colleges/faculties:
Architecture, Chestnut, Commerce, Dentistry, Engineering, Grad Studies (SGS), Grad House, Innis, Knox, Law, M.B.A., Medicine, Mississauga (UTM), Music, New, Nursing, OISE, Pharmacy, Physical Education (FPEH), PT/OT, Scarborough (UTSC), St Michael's (SMC), Trinity/St. Hilda's, University (U.C.), Victoria, Woodsworth, Wycliffe.
For more information please contact tabletennis.club@utoronto.ca