Updated Jan 10, 2011:
Thanks to everyone who made this a great tournament!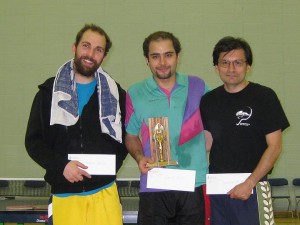 First place: Alireza Tabatabaei Naeini, Mechanical & Industrial Engineering
Second place: Oscar del Rio, Mechanical & Industrial Engineering (Staff)
Third place: Hasko von Kriegstein, Philosophy
See more tournament photos in our Photo Gallery.
Join us on Saturday, January 8, for the best Table Tennis Tournament of the year!

Hosted by the Faculty of Physical Education and Health, the Centre for International Experience and the Table Tennis Club.
Date: Saturday,  January 8th, 2011
Time: 10 am – 5 pm
Place: UofT Athletic Centre, 55 Harbord St, Upper Gym
For the entire University of Toronto community.
Recreational and advanced players welcome! There will be separate categories according to skills.
Free registration: Maximum 70 players!
Registration is already closed.
For more information, please contact: tabletennis.club@utoronto.ca